Here are some of the Partners and Sponsors we are currently working with:
Xero Shoes:
I do suffer from some foot pain, and my feet are most comfortable when I'm traipsing around barefoot. Michelle can't understand how I can be comfortable walking around the house barefoot in the Winter!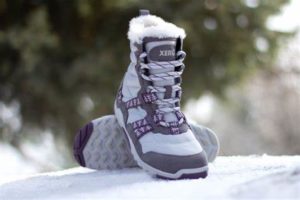 I had been looking at barefoot style shoes for quite a while and when I need a pair of dress shoes that I could wear all day on pavement, I took a chance and ordered the Alston dress shoe from Xero (It has since been discontinued). The comfort was amazing! The wide toe box meant that my left foot didn't go numb after a couple hours. The zero-heel drop was amazingly comfortable, and my toes were not being shoved into the tip of the toe. My (sorry to be so personal) ingrown toenail was incredibly grateful.
Winter arrived and both Michelle and I needed new snow boots. I ordered us each a pair of Xero's Alpine Boots. Michelle loved the look of hers, "They're so cute!" she squealed when she opened the box. These Alpine boots are incredibly comfortable. Out of the box, they're flexible – as if they were your favorite boots that you've work for years. Good traction in the snow, and they are plenty warm for Michigan winters. I have worn them all day long, both inside and outside. They are incredibly comfortable. They have some sort of heat reflective sole insert that really works. They're also waterproof. I don't recommend standing in a stream with them, but an errant step into a puddle is no problem.
As I mentioned, these boots are amazingly soft and comfortable. They're light enough to wear all day, and we have yet found a day that's too cold for them.